James' passion for architecture has b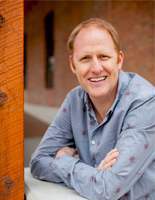 een developing for over 30 years. A love of design runs in his family with his grandfather being employed by Dominion Bridge in the 60's and 70's and the Royal Building Commission in the Netherlands in the 40's and 50's. He has a keen eye for detail and a great sense of spatial relationships combined with a knowledge of construction methods. He also understands that a great project is created through a collaboration of great minds. A team approach is vital. He is intrigued with all styles of architecture when they are developed well.
After schooling in the drafting and design field, James went into construction (framing) to develop a deeper understanding of construction methods. A desire to be involved in creating projects from the beginning lead him to open Oasis Design in 1991.
A growing family and love for the outdoors keeps James busy when not designing. He and his family love to travel, ski, surf, camp, and enjoy all that the west has to offer.